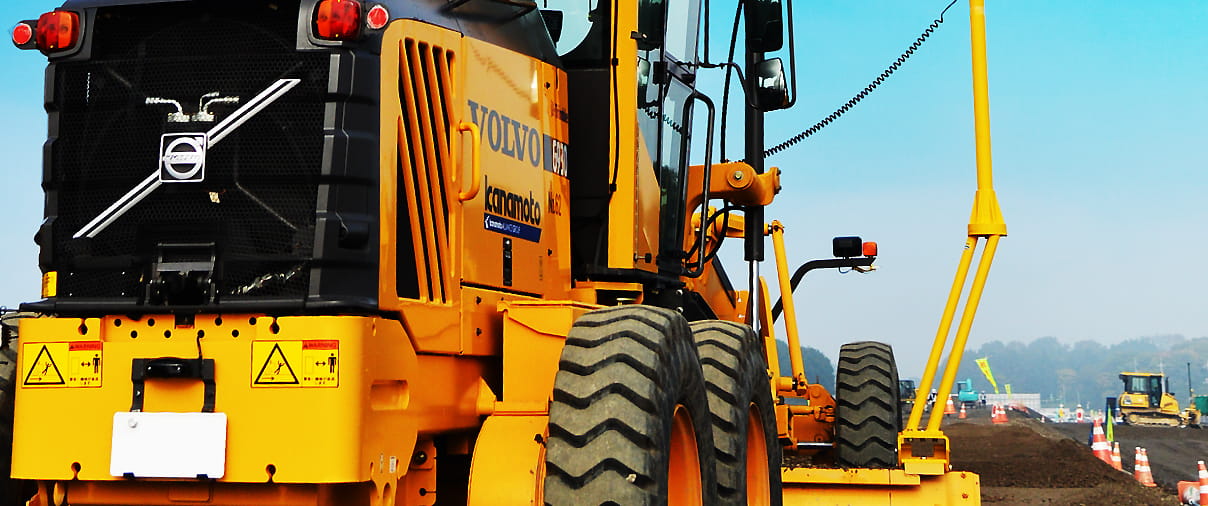 Quickly Respond to Work Site Requests and Fulfill Our Mission to Provide Rental Equipment as Social Infrastructure
The Construction Equipment Rental Business accounts for roughly 90% of Kanamoto Group earnings. This core business offers services that respond to every request received from work sites whether related to civil engineering or construction.
A Full Line-up of Roughly 620,000 Rental Items in Japan
Kanamoto possesses roughly 620,000 rental equipment items made up of approximately 1,100 different models. Whether construction machinery from hydraulic excavators to dump trucks or temporary housing materi- als, generators, or various hand tools, we have put together a line-up of products that respond to every need. This broad line-up not only includes diverse models but also a wide selection of size and accessory options. Kanamoto works to provide a full line-up of items and comprehensive support as a one stop shop to satisfy the equipment procurement needs of our customers.
Reliable Maintenance Systems Set Up at Every Branch
Kanamoto alone has grown to almost 200 branches in Japan while the Group has upwards of 500 locations. Every single one of these bases has highly-skilled maintenance staff who thoroughly maintain the rental equipment on a daily basis to ensure peak performance. Uncompromising maintenance also helps enhance the asset value of equipment sold in the used equipment market.
Flexible Operating Decisions to Capitalize on Rent to Sale
The core essence of the Kanamoto business model is to recover invest- ment outlays for the purchase of assets through rental income before ultimately selling of the equipment. Easing depreciation and extending the life of assets have been key themes for boosting Kanamoto profit margins. We also flexibly judge the timing of sales for used construction equipment models in high demand according to global market conditions.
Substantial Compensation Systems to Rapidly Respond to Diverse Needs
Kanamoto has put in place compensation systems to fully insulate custom- ers from accidents, theft and other inherent risks of construction equip- ment or vehicles during rental. In recent years, user needs to respond to these types of risks have diversified as the type of accidents and scope of compensation has grown more complex. Kanamoto has assigned com- pensation assessment managers to each region in an effort to provide the highest level of compensation assessment and services in order to not only incorporate customer needs but also offer peace of mind.